Variable posture profiling beds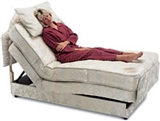 Included here are electric and manual beds. They can be adjusted to change the shape (profile) of the bed. They have sections in the base under the mattress which can hinge to form a back raise and sometimes a leg raise as well. This feature is known as profiling.
Mattresses for these beds may be foam, latex or sprung, but should have divisions to correspond with the sections of the platform.