Tables for use at chairs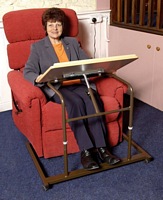 These tables comprises a table top that can be positioned close to your chair as they either have no cross bar, or it is positioned away from the user's feet.
Alternatively you may wish to consider a lap tray. Lap trays rest on the user's lap and are usually supported on a beanbag or cushion that moulds around the thighs.