Cutlery with large or contoured handles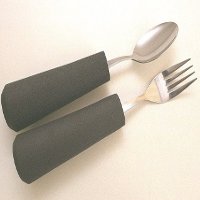 This section includes cutlery with handles that are enlarged and/or contoured to help make them easier to grip. Using cutlery with a larger grip means that your fingers don't need to be wrapped tightly around the handle to grip securely. This can be useful if you find it painful to hold your fingers in a tight grip, or are unable to form a tight grip. Contoured handles are shaped to fit the contours of your hand, which can allow a more secure grip of the handle.
Some items also have other features such as angled heads or lighter weight, which may make them easier to use.