Slip resistant egg cups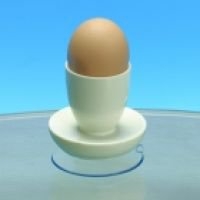 This section has information on egg cups with either a slip-resistant or suction base which is pressed down to secure it in position.
A slip-resistant base can help stabilise the egg cup for one-handed use, or can be helpful for people who have limited control over hand or arm movement. You may find that a standard egg cup is appropriate when used with slip resistant material underneath, to help provide stability.