Straps for use with cutlery & utensils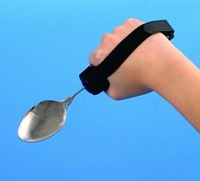 Included in this section are hand straps that are designed to hold cutlery or other utensils if you are unable to form an enclosed grip. The straps are adjustable and worn on your hand, with an integral pouch. The cutlery handle is then inserted into the pouch for use. Straps may assist if you have reduced ability to grip. The strap can help to ensure that the cutlery is not dropped, if grip is not able to be maintained throughout your meal. Straps are generally only worn with spoons or forks, as they don't offer enough stability to allow effective use of a knife.
Also included in this section are splints designed to support your wrist in a functional position. The splint has a cutlery item attached or a pouch in which to insert the item. Splints or orthoses intended for use while eating are specialised items, and should only be used when prescribed by an occupational therapist.