Liquid level indicators for a cup or mug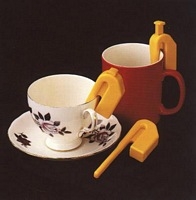 These battery powered liquid level indicators fit over the side of a cup, glass or mug (adjusting to the size of the container) and emit a bleep and/or vibrate to alert blind and partially sighted users when the liquid has reached the required level (RNIB, 2009).
Many have two tones which can be used to give an additional indication when milk is added to a drink that an appropriate level has been reached.
Some are fitted with magnets so they can be stored on the fridge door for easy access. They are suitable for hot and cold drinks.