Wall mounted clocks with bold or clear displays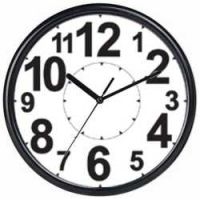 Wall clocks with bold, larger than average digits and a contrasting background.
These clocks are battery operated, some are automatically adjusted to the correct time by radio signals.
Some of the items in this section are available to borrow for free for two weeks in certain areas of the United Kingdom.
If you would like to have a look at our library content, please click this link to be taken through to the Library site.