Supra C500 Key Safe
Priced from
£50
(Exc. VAT)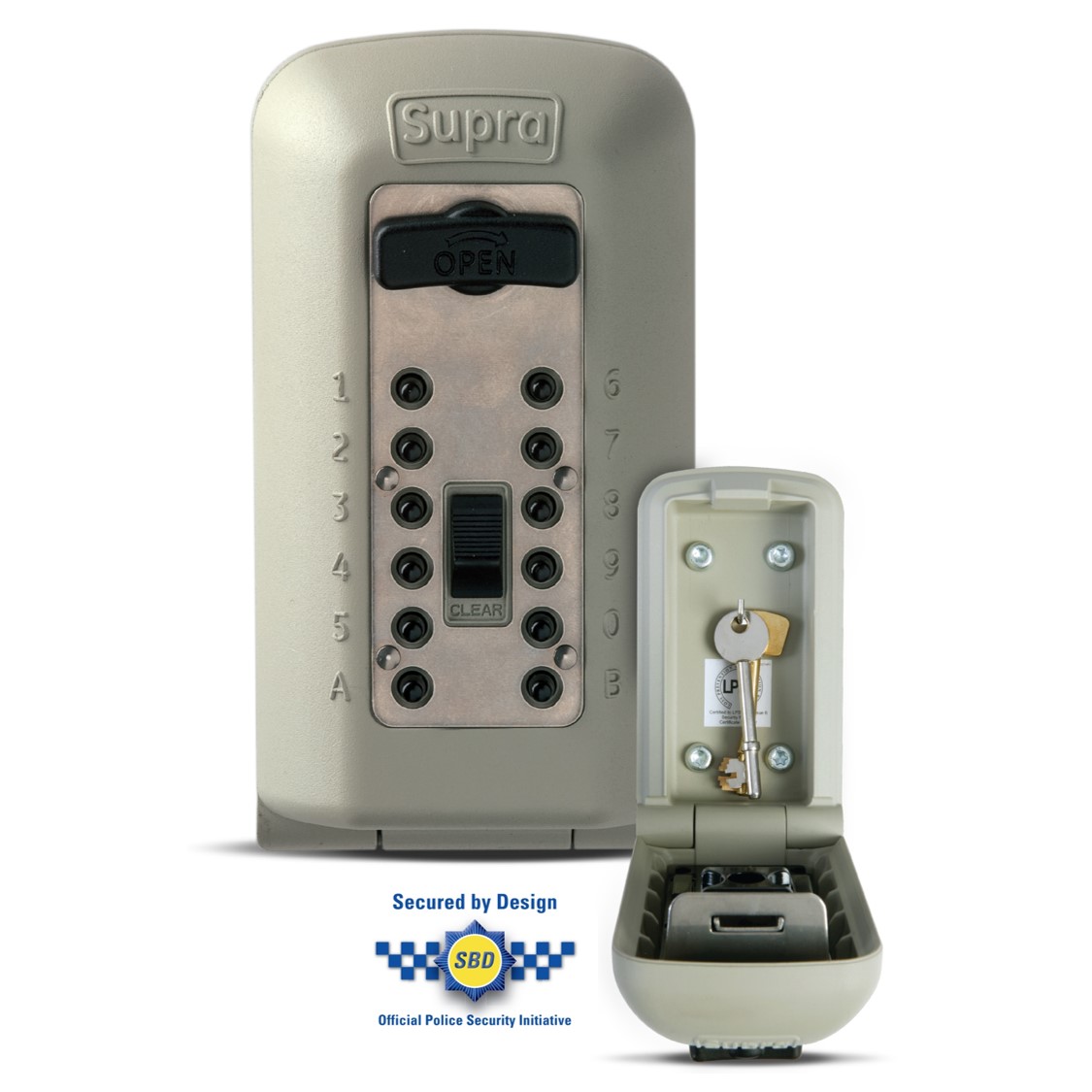 DLF's summary
Keysafe which is police approved through the Secured by Design (LPS) 1175 initiative.
Features
storage for five keys
heavy gauge steel double wall construction
zinc alloy shell
push buttons with stainless steel plate surround
long travel bolt locking mechanism
clutch mechanism to prevent handle being forced open
weather cover
requires mounting on a masonry wall to maintain optimal security
Options
Watch a video
Product dimensions
Standards
Certification
LPS 1175, level 1
Features
Number of keys held
5
Dimensions
Height
15cm
Length
6cm
Width
8cm
Where can I buy this product?
The UK national suppliers that sell this item are listed below.

Mail order
Home demo
Online shop
X
Supplier details
Head office
32 Tower View
Kingshill
West Malling
Kent
ME19 4UY
United Kingdom

Supplier details last checked:
12 October 2017,

Next check due:
12-10-2019
Centra Pulse
's name for this product is
Supra C500 Key Safe
From

£64

Exc. VAT
Checked by DLF on 12 October 2017

Mail order
Home demo
Online shop
X
Supplier details
Head office
Sherwood House
Cartwright Way
Forest Business Park Coalville
Leicestershire
LE67 1UB
UK

Supplier details last checked:
22 June 2016,

Next check due:
22-06-2018
NRS Healthcare
's name for this product is
Supra C500 KeySafe
Their product code is:
M61469
From

£80

Exc. VAT
Checked by DLF on 22 June 2016
Mail order
Online shop
X
Supplier details
Head office
Unit 1 Brook Mill Estate
Station Road
Wrea Green Preston
Lancashire
PR4 2PH
UK

Supplier details last checked:
14 September 2016,

Next check due:
14-09-2018
Complete Care Shop
's name for this product is
Supra C500 Keysafe
Their product code is:
CCS11483
From

£78

Inc. VAT
Checked by DLF on 14 September 2016

Mail order
Online shop
X
Supplier details
Head office
32 Guildford Road
Brighton
East Sussex
BN1 3LW
England

Supplier details last checked:
11 November 2016,

Next check due:
11-11-2018
Essentialaids.com
's name for this product is
C500 Key Safe
Their product code is:
ABPR60088
From

£162

Inc. VAT
Checked by DLF on 11 November 2016

Mail order
Online shop
X
Supplier details
Head office
24 The Furlong
Berry Hill Industrial Estate
Droitwich
Worcestershire
WR9 9AH
UK

Supplier details last checked:
06 October 2017,

Next check due:
06-10-2019
Supra (UK) Ltd t/a The Key Safe Co
's name for this product is
C500 Keysafe
Their product code is:
002049
From

£50

Exc. VAT
Checked by DLF on 06 October 2017

Online shop
X
Supplier details
Head office
22 Atlas House
West Devon Business Park
Tavistock
Devon
PL19 9DP
UK

Supplier details last checked:
13 October 2017,

Next check due:
13-10-2019
Amano Connect
's name for this product is
Supra C500 Key Safe
From

£83

Inc. VAT
Supplied with telecare service in Devon

Checked by DLF on 13 October 2017

Mail order
Online shop
X
Supplier details
Head office
Unit 1
Brook Mill Industrial Estate
Station Road Wrea Green
Lancashire
PR4 2PH
UK

Supplier details last checked:
03 April 2017,

Next check due:
03-04-2019
Co-operative Mobility
's name for this product is
Supra C500 Key Safe
Their product code is:
KS0001
From

£80

Inc. VAT
Checked by DLF on 03 April 2017
Mail order
Online shop
X
Supplier details
Head office
Office 182-190
Lomeshaye Business Village
Turner Road Nelson
Lancashire
BB9 7DR
England

Supplier details last checked:
06 July 2016,

Next check due:
06-07-2018
Ability Superstore
's name for this product is
C500 Keysafe
Their product code is:
50178
From

£91

Exc. VAT
Checked by DLF on 06 July 2016
Show room
Mail order
Online shop
X
Supplier details
Head office
Malvern
Worcestershire
WR14 1QB
UK
PO Box 234
Supplier details last checked:
15 November 2017,

Next check due:
15-11-2019
OTS Ltd
's name for this product is
Supra C500 Keysafe
Their product code is:
KEYS103
From

£70

Inc. VAT
Checked by DLF on 15 November 2017