Is my bath suitable for equipment?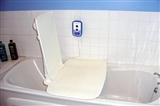 Care should be taken when using equipment fitted on, or to, a bath. You will need to consider:
Length - check whether there is enough room to use the equipment. Particularly if a bath board and seat are going to be used together, or if the bather has stiff hips or knees and therefore needs room to straighten their legs. A 1700mm long bath allows room for most bath equipment.3
Width - if the bath is exceptionally wide or narrow, some equipment, such as bath boards and rim hung bath seats, may not fit into it.
Width of bath rim and level rim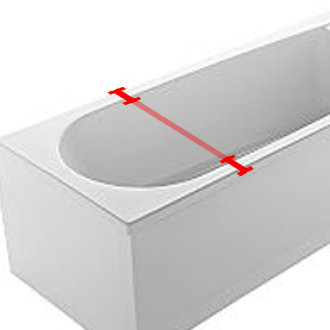 - If a standard bath board is to be used the rims of your bath need to be level, at the same height on both sides of the bath and the width of the rims should be greater than 2.5cm (1 inch)3,4. You should check this before purchasing a bath board. If you have corner tiles restricting the width of the rim on the wall side of the bath then these may need to be removed. If a standard bath board will not fit you may wish to investigate whether a wall mounted bath board may fit.
Bath boards are available in different lengths, to work out which would fit your bath measure the width of your bath. Using the correct length is very important. If the board is too long it will stick out over the side of the bath and there is a chance it could tip up if you sit on the end. It should not overlap the outside edge of the bath by more than 2cm. If the board is too short it will not have sufficient support.1,4
Built-in grab rails - the positioning of these may hinder the use of equipment or entry and exit to the bath. For example, if someone is sat on a bathboard and lifting their legs over the bathrim, their ankle could bump against a built in grab rail.
Some bath lifts come with side flap protectors that prevent the flaps of the seat from getting caught under the built in handles.
Material - metal or enamel baths are usually strong enough to withstand most types of bathing equipment. Many plastic or acrylic baths are not strong enough to take wedge-in bath seats and, when free-standing bath seats and removable bath lifts are used, the weight should be distributed over as wide a base as possible.1,2 Consequently, before using a bath board, bath seat or bath lift with a plastic bath you should check with the manufacturer of the bath that it is strong enough to support this equipment.
If you are not sure what your bath is made of then use a fridge magnet, if it sticks to the side of the inside of the bath then it is probably made of enamel. If it sounds like plastic when you tap it then the bath is probably plastic/acrylic.
Corner baths - there is a very limited range of equipment for these types of baths. If you have a corner bath you could try completing the taking a bath section in AskSARA, stating you have a corner bath to see what equipment can be used in your bath.
---
Further Information:
AskSARA

If you would like similar advice regarding safety in your bath and shower related products then you could try the bathroom and shower section of AskSARA. AskSARA is the Disabled Living Foundation (DLF)'s free online self guidance tool. AskSARA will ask you questions about yourself and your environment (in this instance your bathroom) and then offer relevant advice, product suggestions and supplier details. View AskSARA's bathroom section.
Advice last checked: 30 October 2014 Next check due: 30 October 2017
All advice is either supported by references (cited in the text) or is based upon peer reviewed professional opinion. Our advice is impartial and not influenced by sponsors or product suppliers listed on the site.
Conflict of interest statement
References
Disabled Living Foundation 2014 Choosing equipment for bathing
View reference Last visited: 30/09/2015

Evidence type: 2

Pain, H., McLellan, L. and Gore, S. 2003 Choosing Assistive Devices: A Guide for Users and Professionals
Jessica Kingsley Publishers : London and Philadelphia

Evidence type: 1; 2

Ricability 1999 Bath boards and seats
View reference Last visited: 14/06/2012

Evidence type: 2