Legrests and footstools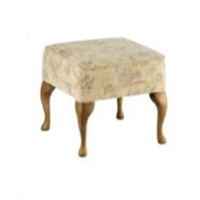 In a 2004 survey of the general population 20 percent to 24 percent of adults reported having had an episode of foot pain in the past month and 60 percent in the past 6 months. The prevalence of foot problems increases steadily with age and is extremely common with people with musculoskeletal problems such as rheumatoid arthritis or secondary conditions such as diabetes. (Podiatry Rheumatic Care Association).
Leg rests and footstools should provide adequate support and be stable in use. Ideally a leg rest should support the legs from the chair edge right down to the feet although, in practice, many are rather short. A footrest only supports the feet and ankles and is usually lower than a leg rest. There are a wide range of products readily available on the high street but they need to be chosen with care. If you have been given medical advice about putting your legs up due to a particular medical condition or symptoms then this may determine the type of leg rest or footstool you choose. NHS Choice has a range of online information including advice for people with oedema.
---
To view footstools, click on the picture above
A footrest may not be suitable if you have a painful, stiff or weak knee, as your knee will remain unsupported. This can put strain on the ligaments behind the joint and could lead to discomfort.
---
To view adjustable height leg rests, click on the picture above
Foot and leg rests with legs that are independently height adjustable can be aligned to different chair heights. Those with an adjustable angle top will enable the supporting surface to be sloped downwards. This will provide a comfortable support and will distribute the pressure evenly down the leg length. Many are available with T-shaped legs and a slightly concave top.
---
To view fixed height legrests, click on the picture above
Fixed height foot and leg rests should be tried out for comfort before purchase as they cannot be adjusted to suit the individual user. Most are available with a choice of vinyl or fabric upholstery and wooden or metal frames. They are readily available on the high street.
---
To view rocking legrests, click on the picture above
L-shaped rocking leg rests adjust automatically to the angle of the user's legs. Most have a long and a short support, and it may be possible to use them to bear the weight of either the legs or feet. They can provide a downward support for the calves and support at right angles under the soles of the feet.

---
The weight and manoeuvrability of the footstool needs to be considered as the footstool will need to be moved out of the way when you stand up and put back in place when you are seated. Some legrests have castors which can assist moving them into position.
The use of a manual leg lifter can help with placing your legs onto a footstool. View manual leg lifters.
Consider the weight limit of the foot or leg rest. If you have swollen or particularly heavy legs you may require professional advice and need to ensure that the legrests have a sufficient weight capacity, provide adequate support and pressure relief if needed. If carers are involved with caring for you and your limbs then there may be health and safety issues related to moving and handling that would need to be addressed by an occupational therapist, physiotherapist or manual handling adviser.
---
Leg rests are also an integral part of many chairs including:
- manual recliner
- powered recliner
- riser recliner
- support chairs
These chairs need to be tried out for comfort and to ensure there is sufficient support under the knees and calves. Equipment Demonstration Centre in the UK have a range of chairs and accessories available to try.
When considering a chair an individual assessment with an Occupational therapist or Physiotherapist is recommended. It may be important that you have an individual assessment as there are many factors that may affect what is appropriate for you. For example, some chair raisers will not fit certain chairs, and some individuals, such as those who have just had a hip replacement, require chairs to be a minimum height. You may be eligible for an assessment and equipment from your local authority. If you are eligible the equipment will be provided on a long-term loan basis. Alternatively, you may be eligible for a direct payment from your local authority to purchase something suitable. View more information on equipment provision via your local authority and the direct payments scheme.
If you would like similar advice regarding issues with sitting to standing and questions relating to chairs then you could try the sitting and standing or chairs sections of AskSARA. AskSARA is the Disabled Living Foundation (DLF)'s free online self assessment tool. AskSARA will ask you questions about yourself and your environment and then offer relevant advice, product suggestions and supplier details.
- AskSARA's Chair section
- AskSARA's Sitting and standing section

Advice last checked: 31 October 2014 Next check due: 31 October 2017
All advice is either supported by references (cited in the text) or is based upon peer reviewed professional opinion. Our advice is impartial and not influenced by sponsors or product suppliers listed on the site.
Conflict of interest statement