Riser and recliner chairs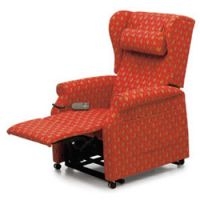 There are 3 main types of riser and recliner chairs:
Riser chairs have a seat rise facility or a dual seat rise and tilt forward facility
Recliner chairs allow you to recline the chair back and some will allow you to put up your feet. Certain models will recline you fully to a lying position.
Riser recliner chairs include seat rise, recline and tilt forward facilities.
Many of these chairs have options for integral pressure relief. This may be an important feature if you spend a lot of time in your chair, or are unable to move and change your position regularly. It is recommended that you seek advice from an occupational therapist if you think you might need a chair with pressure relieving features.
If you experience back pain, you may find that a choice of backrest angle, alternative backrest style or a different style of headrest may improve comfort.
---
Riser chairs
These chairs are compact compared to recliner or riser recliner chairs. It is advisable to position these chairs with the back to a wall. With manual riser chairs you may require enough strength in your arms to lift yourself from the seat in order to trigger the mechanism. Many have a spring mechanism which can be adjusted according to the your weight and may be preset by the manufacturer. You must be able to maintain enough balance to stand while the chair seat rises. Extended armrests may help you as you stand up.
A powered riser chair tends to provide more variations in the seat rake but ensure you are not left in an unstable position. These chairs are unsuitable for people with poor trunk control. If you have a degenerative condition, you may choose to get a riser recliner or one of the support and positioning chairs if you are likely to need additional features in the future.
Riser cushions may be a possible alternative to a riser chair, they can be portable for travelling or could be used on a current chair. Riser cushions must be positioned on a chair with armrests that has a solid, stable seat base.
---
Recliner only chairs
Some models with a single motor have a backrest that reclines at the same time as the leg rest comes up. Models with two motors allow the backrest and leg rest to be operated independently of each other. Recline only models do not have a riser function. They can be manually operated or powered by mains electricity.
---
Riser recliner chairs
Riser recliner chairs combine the features of recliner chairs and riser chairs, including seat tilt, seat lift and tilt and recline. Once the seat back is in an upright position these chairs assist a person to standing by lifting up the seat and tilting the chair forward.
They can have single, dual or multiple motors. Chairs needed for heavy duty use are likely to have multiple motors.
Some powered models have a key or handset that can be removed when the chair is not in use, and an option of removable handsets or sensors which stop the movement of the chair to prevent entrapment of children or pets.
There are some riser recliners with a tilt-in-space facility and a few with a vertical lift facility only.
Riser-recliners with one motor operate the backrest and leg rest so that as the backrest reclines the leg rest rises.
These are the simplest riser-recliner chairs to use as there are only two buttons to use when operating the chair.
Once the seat back is in an upright position, these chairs can also assist a person to stand by lifitng up the seat and tilting the chair forward.
Riser-recliners with two motors use one motor for the leg rest and one for the backrest, so the backrest and leg rest can be operated independently of each other. Others have three or more motors, but these tend to be chairs for heavy duty use.
---
You normally require about 460mm (18") to 600mm (24") behind both recliner and riser recliner chairs so the chair can fully recline, otherwise the motors could burn out pushing against an obstruction. There are now some compact versions available called 'wall huggers' which have reduced the space required to about 100mm (4"). Chairs made for shorter people are proportional to the person's height, and therefore may also require less space behind.
Many of the products listed are CE marked as a 'medical device' which means they should be used only in accordance with the manufacturer's intended purpose. The manufacturer's of these chairs intend them to be used for sitting, they are not sold as sleeping systems. Consequently it is not advisable for these riser recliners to be used for sleeping unless a decision is made as part of a risk assessment by an Occupational therapist or a Physiotherapist. There are 'chair beds' available which are designed for sitting and sleeping. The Medicines and Healthcare products Regulatory Agency (MHRA) is the government agency responsible for ensuring CE marked products are fit for purpose and safe.
Equipment Demonstration Centre in the UK may have a range of riser and recliner chairs available to try.
Rica have a useful guide about choosing a riser recliner chair. It includes information about different lifting options available, including tilt, high, low and vertical lift. Rica are an independent consumer research charity providing free, practical and unbiased reports for older and disabled people.
Advice last checked: 31 October 2014 Next check due: 31 October 2017
All advice is either supported by references (cited in the text) or is based upon peer reviewed professional opinion. Our advice is impartial and not influenced by sponsors or product suppliers listed on the site.
Conflict of interest statement