Choosing a new peeler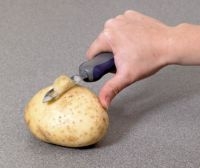 Can you avoid having to peel vegetables at all, by cooking potatoes in their skins? Or roasting/baking vegetables in their skins?
If not, you have the choice of using:

When purchasing, consider the type of handle on the peeler. A soft cushioned and slip resistant handle may make the task more comfortable and reduce pain and an enlarged handle may be easier to use if you have reduced grip. If your hand is small however, ensure the handle is not too large4.
Manipulating the peeler has been shown to be harder to manage than gripping the handle, so it also worth thinking about how the type of peeler can effect the ease of use. Most manual peelers are either:1
Swivel action peelers (pictured above) have a blade at the end of the handle (like a knife) and can be used in multiple directions.They require more strength and rotation of the wrist than Y-shaped peelers. They suit thin-skinned vegetables like carrots.
Y-shaped peelers have a blade perpendicular to the handle. They often have swivel blades and usually have built in potato eye removers. They tend to be used for peeling fruit and vegetables with thicker skins. Y-shaped peelers do not require rotation of the wrist so tend to be easier to use if you experience pain or reduced strength in the wrist2 3.
Either of these types of peelers are readily available on the high street but the ones included here have features such as wide or padded handles which can enhance and facilitate grip.
Citrus peelers can be used with oranges, grapefruits, lemons and limes. The fruit could be stabilised on spikes or studs or clamped within a
food preparation board.
---
Table top peelers
Table top peelers are attached to a heavy slip-resistant base or are clamped to a table edge, so that peeling can be carried out one-handed. Most use spikes on a food preparation board which allows use of a hand held peeler. Others have a peeler clamped to a worktop with the peelings falling into a bowl behind the peeler. This can make them suitable for someone with the use of one hand or with a tremor, however you still need to be able to grip and reposition the fruit or vegetable2. Alternatively you can scrape your vegetables rather than peeling using a vegetable scraper.
Advice last checked: 09 December 2013 Next check due: 09 December 2016
All advice is either supported by references (cited in the text) or is based upon peer reviewed professional opinion. Our advice is impartial and not influenced by sponsors or product suppliers listed on the site.
Conflict of interest statement