Sponsorship information
Living made easy is an independent advice website about daily living equipment and other aspects of independent living. It is the ideal place for daily living aid suppliers and other companies wishing to reach older and disabled consumers and their families. To discuss sponsorship please contact DLF's Marketing Department.
Why sponsor Living made easy?
Living made easy is the leading advice and information website on daily living equipment in the UK.
Visitors numbers are currently over 100,000 visits a month. Of these nearly 87,175 are absolute unique visitors. (Source: Google Analytics, Nov 2015)
40% of people who visit the site go on to buy equipment (DLF survey, April-July 2010, 206 responses)
For many of the most popular search terms in this area, Living made easy ranks very highly in search engines.
Who uses Living made easy?
A recent survey of over 200 Living made easy users showed:
37% were 70 or over, 17% were 60-69, 17% were 50-59, 11% were 40-49, the rest were under 40
61% said they had a disability or age-related condition, 18% said a family member of friend had a disability or age-related condition and 7% were healthcare professionals
A similar survey of over 170 users of the children's section of the website Living made easy for children showed:
33% had a disabled child aged under 5, 38% had a child aged 6-10 and 24% had a child aged 11-16
80% said their child used equipment to help them with their daily living activities
Only 27% said their local Council/NHS/Wheelchair Service provided all of this equipment
76% said they purchased equipment themselves
Another user survey completed by over 40 people showed:
65% had other children as well as their child (children) with a disability
64% had bought food online within the last three months, 60% had bought women's clothes and 52% had bought children's clothes
Who should sponsor Living made easy?
Anyone interested in reaching older and disabled people, their families and carers or healthcare professionals such as occupational therapists:
Equipment suppliers
Specialist insurance companies
Travel companies catering for older and disabled clients
Pharmacies and other health-related companies
Companies selling to families with children with and without disabilities
Sponsorship opportunities
Premium listings for national suppliers
National suppliers who are listed as meeting our standards can also pay to enhance their entry through a Premium Listing.
Premium Listings mean that the company's logo is displayed and a button that allows users to directly email the company for more information is displayed. The fee for a Premium listing is just £250 + VAT per year and is a great way to stand out from other companies in the listings, generate leads and raise brand awareness.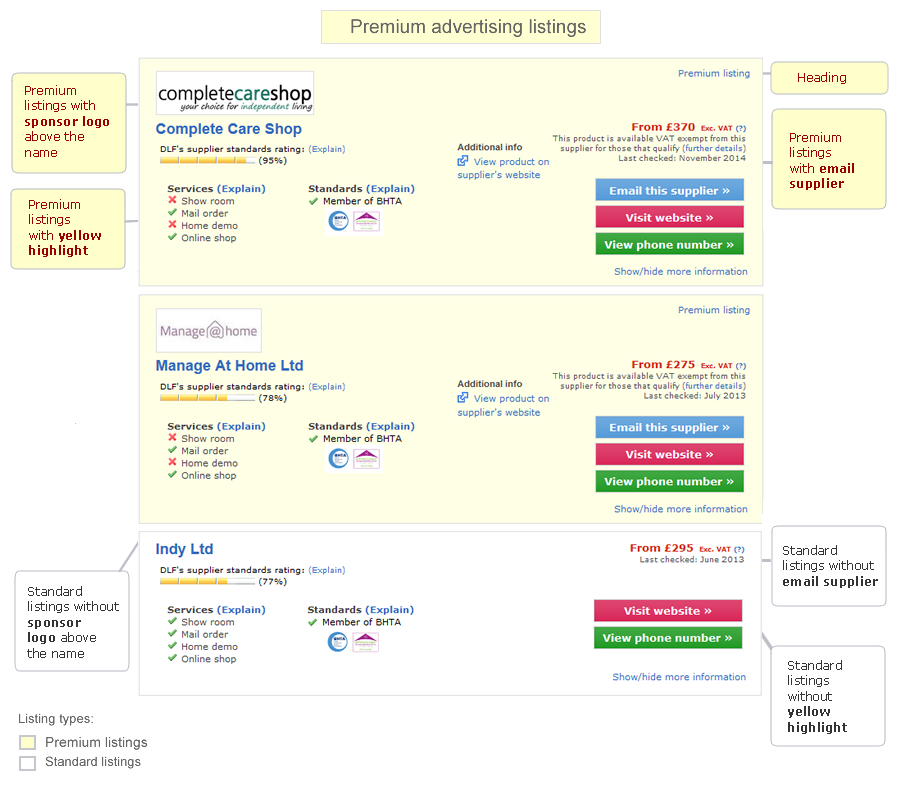 Premium listings for local retailers
Local retailers can also purchase Premium Listings for £125 + VAT per year. Premium Listings allow retailers to include further information, e.g. their opening hours, parking, disabled access, etc. and any special information about their services. It also allows customers to click through to their website or email them directly for more information and is a great way to stand out from other companies in the listings, generate leads and raise awareness and promote your services. Further information
Supplier Directory
Suppliers can book sponsored links in the Supplier Directory on our main DLF website. These link straight through to relevant pages on your company's website and cost just £300 + VAT per year to be in up to five categories.
Factsheet sponsorship
DLF's Factsheets are very popular advice guides, downloaded from our website and distributed by our Helpline to thousands of people each year. Factsheets are available for sponsorship, for more details contact marketing.
Contact us
To discuss any of these sponsorship opportunities please contact DLF's Marketing Department or phone 020 7289 6111.