Partnerships
The important work that we do at DLF would not be possible without the support of corporate partners. We balance the delivery of clear business benefits with our no compromise approach to our mission to provide impartial, independent information and advice that enables older and disabled people to live independently.
We offer a range of programmes to corporate partners from campaign based work around initiatives such as our Alf Morris Fund for Independent Living http://www.dlf.org.uk/support-us/alf-morris-fund through to advertising campaigns across Living Made Easy and options to license our online tools such as AskSARA.
Many organisations opt to target the public through advertising campaigns on Living Made Easy. From simple banner campaigns targeting specific products or product categories to sponsorship of our Factsheets, talk to us about creating a package to suit you. Campaigns are clearly displayed and do not impact on the impartial listings that DLF provides.
Our scheme for national suppliers
National suppliers who are listed as meeting our standards can also pay to enhance their entry. The annual fee for this scheme is just £360 + VAT per year regardless of the number of product listings and is a great way to stand out from other companies in the listings, generate leads and raise brand awareness.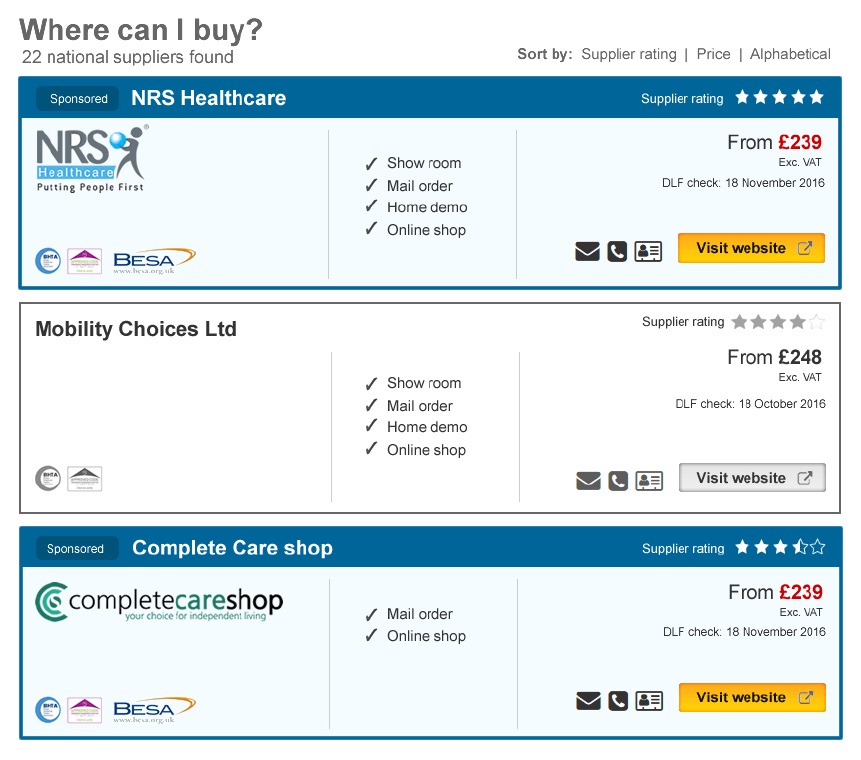 Our scheme for local retailers
Local retailers can also enhance their listings for £125 + VAT per year. This allows local retailers to include further information, e.g. their opening hours, parking, disabled access, etc. and any special information about their services. It also allows customers to click through to their website or email them directly for more information and is a great way to stand out from other companies in the local retailer listings.
Contact us
To discuss marketing opportunities with DLF or request a bespoke proposal please contact DLF's Marketing Department or phone 020 7432 8011 and speak to Ricardo Marino or Janet Seward.