Choosing a specialised cycle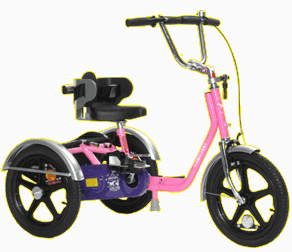 There are many different types of specialised bicycles and tricycles on the market for children with disabilities. Before purchasing one, there are several important considerations to bear in mind (The Disability Information Trust, 2001):
Ensure your child can try it out in the setting in which they are likely to use it.
Take into account your child's compliance with wearing a helmet.
Consider how your child will get on and off the bike or trike.
What additional seat, hip, trunk and foot support is required and available?
How good is your child's steering ability?
Can your child co-ordinate their arms and legs?
How adjustable are the seat and handle bars?
What maintenance is necessary and who will carry this out?
Is the bicycle or tricycle stable?
Is a steering rod required?
Does it need to be transported? If so, how will this be done? (Velovision, 2005)
Where will the bike or trike be stored? (Velovision, 2005)
Specialised cycles are often very expensive and not funded by your local authority. You may therefore wish to investigate charitable funding.
Advice last checked: 29 September 2014 Next check due: 29 September 2017
All advice is either supported by references (cited in the text) or is based upon peer reviewed professional opinion. Our advice is impartial and not influenced by sponsors or product suppliers listed on the site.
Conflict of interest statement