Encouraging independence with eating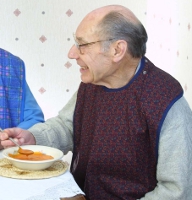 Many people pefer to be as independent as possible when it comes to eating and drinking. Listed here are some hints on how you can be as independent as possible at mealtimes.
Ensure that the dining environment is set up correctly. Your dining chair should be supportive and allow you to sit in a comfortable and upright position, as this will help maintain a good posture for eating and drinking (Mastos, Miller, Eliasson and Imms, 2007). Read our advice on setting up the dining environment for more information.
A regular routine with familiar placement of items such as napkin, salt, pepper and drink may help if you have memory problems. Eating a meal in quiet surroundings with minimal distraction may also help (Alzheimer's Association, 2007).
Specially designed cutlery or crockery can help, if you have difficulty using standard items. Read our advice on choosing cutlery, or our advice on one handed eating, for futher information.
Choosing appropriate foods can also encourage independence. For example, if you have trouble cutting food, a casserole may be more appropriate than a whole steak. Thicker sauces and soups are also less likely to be spilled. A speech and language therapist can advise on suitable foods if you have difficulty chewing or swallowing.
Advice last checked: 03 October 2014 Next check due: 03 October 2017
All advice is either supported by references (cited in the text) or is based upon peer reviewed professional opinion. Our advice is impartial and not influenced by sponsors or product suppliers listed on the site.
Conflict of interest statement
References
Alzheimer's Association 2007 Eating
View reference Last visited: 13/12/2013

Evidence type: 2

Mastos, M., Miller, K., Eliasson, A.C. and Imms, C. 2007 Goal-directed training: linking theories of treatment to clinical practice for improved functional activities in daily life
Clinical Rehabilitation Vol.21(1) p47-55

Evidence type: 3