Safe use of walking equipment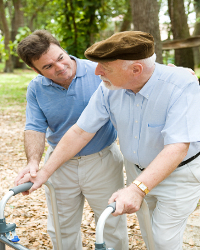 Walking equipment should improve your mobility. But... if an inappropriate piece of walking equipment is used, incorrect techniques are adopted, or if the equipment is not suitable for a particular environment, your independence and safety will be compromised.
An assessment by a physiotherapist would be recommended for example, if purchasing a basic piece of walking equipment such as a walking stick. However if you are considering purchasing a more specialised piece of equipment like a four wheeled rollator it is essential to be seen by a physiotherapist to ensure it is safe for you to use and suited to your needs.
The physiotherapist can make any necessary adjustments and review your mobility if required.
Consider factors that could minimise your risk of falling whilst using walking equipment including:
The home environment
Wherever possible, ensure a clear path for the walking equipment to reduce the risk of you tripping. Things to look out for include: loose rugs, small lips where floor surfaces change and toys (Department of Health, 2001).
Wet floors
Where possible, walking equipment should not be used on slippery or wet floors (Department of Health, 2001).
Footwear
Footwear should be appropriate and supportive (Department of Health, 2001).
Maintenance
All walking equipment should be checked regularly for signs of wear and tear. Particularly vulnerable parts include the ferrules, hand grips and underarm pads. Replacement ferrules are usually available from the department who issued the equipment - or if the equipment is no longer safe to use, they should provide you with a replacement. However, if you bought the piece of walking equipment privately, replacement parts are usually available from the supplier where you purchased them from.
---
To view the range of walking equipment we have on Living made easy please click on the images below:
Advice last checked: 08 October 2014 Next check due: 08 October 2017
All advice is either supported by references (cited in the text) or is based upon peer reviewed professional opinion. Our advice is impartial and not influenced by sponsors or product suppliers listed on the site.
Conflict of interest statement
References
Department of Health 2001 National Service Framework for Older People
View reference Last visited: 17/12/2013

Evidence type: 2