Choosing drinking equipment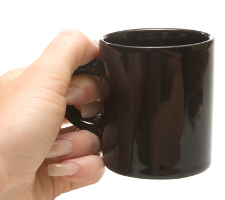 Difficulty handling and using cups or mugs effectively can be caused by a number of problems, such as reduced grip; tremor; pain or stiffness in arms, shoulders or neck; loss of sensation or vision.
Listed here are the different types of drinking equipment available, and how they may help overcome these difficulties.
Cups and mugs with handles
Cups or mugs with large handles allow you to use your whole hand to grip the handle, or put your whole hand through the handle to grip the cup or mug. This may help if you have reduced grip or loss of sensation in the hands as a continuous strong grip on the handle is not essential. Cups with two handles allow the weight of the cup to be distributed between both hands, which may help you lift and stabilise the cup more easily (LifeTec Queensland, 2009).
Weighted cups
Weighted cups may help people with tremor or lack of muscle control in the hands or arms. The extra weight of the cup may help to suppress uncontrolled movements. However, this will depend on the severity of the tremor and may not be effective for people with severe uncontrolled movements (DLF, 1996).
Spill-resistant inserts
These are plastic devices inserted into a cup or mug to help reduce the amount of movement of liquid in the cup (DLF). These may be suitable for people with tremor or lack of muscle control as they can help to prevent spillage.
Cups with lids
A cup with a lid can help prevent spilling of contents. There are various styles of lids available, such as: commuter lids which are flat with a small hole to drink from; lids with spouts, which may be perforated or with a small hole at the end; lids with a hole for a straw and lids with flow control, which have a button to control air flow and therefore help regulate the amount of liquid released.
Cups with lids may assist people who have tremor or lack of muscle control, as they help to prevent spillage. They may also be useful for people who have slowness of movement as they may help to stop heat escaping from hot drinks.
Insulated cups
Insulated cups have a double wall to provide insulation and help keep the contents warm for longer than a standard cup (DLF). Insulated cups are usually also cool to touch on the outside surface. An insulated cup may be suitable if you have loss of sensation in the hands or slowness of movement.
Angled or cut-out cups
These allow you to drink from the cup without having to tilt your head back or raise your arms as far as you may need to with a regular cup (DLF, 1996). The rim is usually angled or has a cut-out, so it is lower at the back. These cups may be helpful for people with pain or stiffness in the arms, shoulders or neck.
Straws and straw holders
Straws are available in a variety of lengths and styles. Straws with a one way valve prevent liquid flowing back into the cup, so can be helpful for people with poor suction (DLF, 1996). Wider straws can allow thicker liquids to pass through, but will need more suction to draw the liquid up the straw (DLF). Longer straws may help you to avoid having to lift the cup at all, which can be helpful for people with pain or stiffness in arms or shoulders.
Hands free drinking equipment
If you are unable to lift or drink from a cup or mug, there is equipment available that will allow you to drink without use of your hands. The cup or bottle is usually positioned on a table, or can be mounted on a wheelchair or bed frame (DLF). These systems usually incorporate a straw with a one way valve to prevent liquid flowing backwards and reduce the amount of suction required (DLF, 1996).
Further information
If you have complex difficulties with drinking and swallowing, you may need an assessment by a speech and language therapist who can advise on appropriate equipment and techniques, or may recommend a modified texture diet suited to your needs. Specialist advice on overcoming complex eating and drinking difficulties is also available from the Association for Rehabilitation of Communication and Oral Skills (ARCOS).
---
To view the products mentioned, click on the product images below:
Advice last checked: 11 November 2014 Next check due: 11 November 2017
All advice is either supported by references (cited in the text) or is based upon peer reviewed professional opinion. Our advice is impartial and not influenced by sponsors or product suppliers listed on the site.
Conflict of interest statement
References
Disability SA 2008 Arthritis Management
View reference Last visited: 16/12/2013

Evidence type: 2

LifeTec Queensland 2009 Eating and Drinking Equipment Factsheet
View reference Last visited: 16/12/2013

Evidence type: 2