Basic guidelines for the use of crutches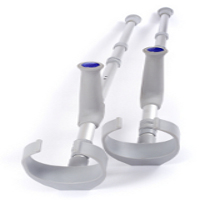 There are basically two styles of crutches: axilla (or underarm crutches), and elbow crutches.
As a general rule, axilla crutches are used by people who cannot weight bear through their affected leg and elbow crutches by people who can partially weight bear.
If you are using axilla crutches, do not lean on the underarm pad as this may interrupt the blood flow and put pressure on important nerves that run through the armpit. The pad should be squeezed between the upper arm and chest wall.
Elbow crutches are available with two styles of cuff: open or closed.
Open cuffs are semi-circular in shape (see picture above right). Standard and moulded handgrips are available. Some models are also fixed in height.
Closed elbow cuffs form almost a complete ring around the user's forearm. They are more widely used as they provide greater security and may enable the user to let go of the handgrip to open a door without the crutch falling to the floor.
Regular maintenance of crutches is essential to ensure safety. Checks should be made for signs of wear and tear, particularly at the site of screws and height adjustment mechanisms. All ferrules should be checked regularly and replaced as appropriate.
Some basic guidelines for use are:
Crutches are designed to be used in pairs. Occasionally one crutch is used on its own but this should only be done under the guidance of a physiotherapist.




You can use these crutches in a range of ways depending on your walking pattern (gait) Walk Easy (2010).


The affected leg stays with the crutches. You should move your affected leg forwards with the crutches then swing through with the good leg.


When going up and down steps or stairs, remember to step up with the good leg first, following on with the affected leg and crutches.


When going down stairs, the affected leg and crutches lead.
---
To view the crutches we have on Living made easy for walking & standing please click on the image below:
Advice last checked: 08 October 2014 Next check due: 08 October 2017
All advice is either supported by references (cited in the text) or is based upon peer reviewed professional opinion. Our advice is impartial and not influenced by sponsors or product suppliers listed on the site.
Conflict of interest statement