Insurance and hire services for scooters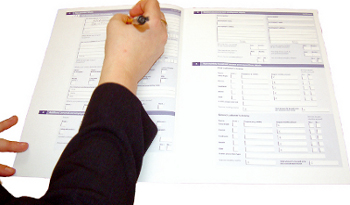 At the moment you are not legally required to have insurance for driving your scooter or buggy on the road. (BHTA, 2004), (Directgov, 2011), (DfT, 2011), (DVLA, 2011), (Rica, 2010).
However, it is recommended that you take out an insurance policy to cover your mobility scooter or buggy against accidental damage, theft and third party liability, in case of damage or injury to someone else or their property. (BHTA, 2004), (Directgov, 2011), (DfT, 2011), (DVLA, 2011), (Rica, 2010).
As with all insurance, get more than one quote.
Before buying a specific policy, you should check your household insurance to see if your scooter could be covered.
Registration
Class 2 scooters or buggies do NOT need to be registered with the DVLA, as they are not for use on roads. (DfT, 2018), (DVLA, 2018).
However, Class 3 mobility scooters or buggies DO need to be registered for road use, be licensed in the "disabled" taxation class and display a nil duty tax disc. (Directgov, 2018), (DfT, 2018), (DVLA, 2018).
Registration is free and the scooters are at present not required to have registration plates.
To register and license a Class 3 vehicle, the form V55/4 for new vehicles and V55/5 for used vehicles should be completed. DVLA forms can be ordered on GOV.UK's website, by picking up the leaflet in most post offices, or by phoning 0870 243 0444. Guidance on completing the forms can be accessed in the DVLA's leaflets V55/4 and V55/5 (GOV.UK 2018).
Failure to register vehicles with the DVLA is a criminal offence which could prove problematic if you are involved in an accident either on the road or pavement.
Hire
A number of private hire firms make daily/weekly/monthly hire charges, which may vary in amount and in the conditions attached. There are a few points that you may wish to consider before taking out a hire contract for a piece of equipment, for example:
does the company provide a delivery and/or collection service and, if so, are there any additional charges?
does the company ask for a deposit before loaning of a vehicle?
if hiring long term is the vehicle subject to a six monthly service liability; if so, will a replacement scooter be supplied in the mean time?
who is responsible for maintenance, e.g. if you have a puncture?
if you are hiring for holiday use, are you permitted to take the vehicle overseas? Are there additional charges, and/or an increase in the deposit needed?
are you obliged to take out insurance; if so, is this included in the price and what eventualities does the insurance cover?
when hiring a piece of equipment, ensure that the user understands how to operate and use it before taking delivery or collecting.
Shopmobility
Many towns and cities have Shopmobility schemes through which people can be loaned scooters, manual wheelchairs and powered wheelchairs to enable them to go shopping. Some of the schemes are free but some require a returnable deposit. For details of your nearest Shopmobilty centre contact the National Federation of Shopmobility (NFSUK).
Motability
The Motability Scheme enables disabled people to use their government-funded mobility allowances to obtain a new scooter, powered wheelchair or car. However, this excludes mobility buggies.6-7
You have to be getting the Higher Rate Mobility Component of the Disability Living Allowance or the War Pensioners' Mobility Supplement to qualify. (Rica, 2010), (Motability, 2014).
You exchange all or part of this allowance for an all-in deal which includes a three year lease of a scooter or wheelchair and a lot more: including insurance, maintenance and repairs. There are over 200 vehicles to choose from. (Rica, 2010)
Many people choose to get a scooter or wheelchair from Motability because the scheme provides all they need in one go and in a hassle free way. (Motability, 2014).
Full details of the scheme and latest prices are on the Motability web site. They also have a useful booklet - Your guide to getting a Motability scooter or powered wheelchair
---
---
Advice last checked: 30 January 2018 Next check due: 30 January 2021
All advice is either supported by references (cited in the text) or is based upon peer reviewed professional opinion. Our advice is impartial and not influenced by sponsors or product suppliers listed on the site.
Conflict of interest statement
References
Directgov 2011 Motoring
View reference Last visited: 25/02/2015

Evidence type: 2

DVLA 2011 Driver and Vehicle Licensing Agency
View reference Last visited: 03/02/2015

Evidence type: 2