Clothing and equipment for easier dressing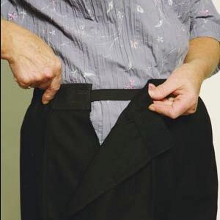 If you find dressing difficult, there are a number of things you can try to remain independent with dressing. Choosing appropriate styles and fabrics, adapted clothing as well as using special techniques or equipment can all help to make dressing easier. (Disability SA, 2008), (ILC Exeter, 2008).
Clothing styles
Skirts and trousers with elasticated waistbands are often easier to manage than those with fasteners such as zips. (Disability SA, 2008), (ILC Exeter, 2008).
Loose fitting, stretchy clothing without fastenings, such as T-shirts, will often be easier to manage and eliminates the need to fasten buttons or zips. (Disability SA, 2008), (ILC Exeter, 2008).
If choosing clothing with fasteners, make sure the fastener is easily accessible, at the front for example. (ILC Exeter, 2008).
Clothes that open at the back are usually easier to put on while seated, however fastenings may be difficult to access. (Disability SA, 2008).
Capes and ponchos can be easier to put on than a heavy jacket or coat, especially if you have restricted shoulder movement.
Fabrics
Clothes made from knitted or 'jersey' fabrics are often easier to manage than more stiff, woven fabrics. A small percentage of elastane or Lycra also makes fabric more stretchy, and can help it regain its shape after being stretched. (ILC Exeter, 2008)
Smooth, slippery fabrics are usually easier to get on and off, as they glide easily over your skin or other layers of clothing. (ILC Exeter, 2008).
Easy care fabrics are usually easy to wash and need little to no ironing so are often a good choice.
Adapted clothing
There is a range of ready-made adapted clothing available to buy, or it is possible to make adaptations to your existing clothes. Listed here are some suggestions on how some difficulties can be overcome with adapted clothing.
Magnetic or hook and loop fasteners (such as Velcro) are usually the easiest to manage. Shirts, trousers, bras and skirts are available ready made with these types of fastenings, or it is possible to adapt your own clothing. For example, Velcro dots can be used instead of buttons to fasten a shirt. (Disability SA, 2008), (ILC Exeter, 2008).
Bras can be difficult to fasten at the back, and hook and eye fastenings can be difficult to manage. Front fastening bras are available, and are usually easier to manage. You could also consider a fasten-free bra, which is pulled on over your head or up from the floor. (Disability SA, 2008), (ILC Exeter, 2008)
Zip fastenings can be quicker and easier than buttons, although open ended zips can be difficult to align and fasten if you have pain or stiffness in your fingers. Extended tabs or loops can be added to zip tags to make them easier to grip and fasten. (ILC Exeter, 2008).
For more ideas on clothing adaptations specific to wheelchair users, read our advice on clothing for wheelchair users.
Dressing techniques
There are a range of dressing techniques that can be used depending on what difficulties you have with dressing. For example, there are one-handed dressing techniques for tying shoelaces, putting on a bra, shirt, jacket, sweatshirt, socks and for tying a tie. There are also techniques for dressing if you have limited strength in your hands, limited shoulder movement or paralysis.(Disability SA, 2008).
These dressing techniques can be demonstrated by an occupational therapist, who can do an assessment with you, then show you appropriate dressing techniques to suit your abilities. You may also be able to get advice on dressing techniques by visiting your local Disabled Living Centre.
Dressing equipment
There is a range of equipment available to assist with a variety of dressing tasks. We recommend that you seek advice from an occupational therapist before buying or using any of this equipment. For some of these items, practice and correct technique is needed to ensure you can use the equipment effectively. You may also wish to try out some of this equipment at your local Disabled Living Centre.
Button hooks
A button hook usually consists of a thick handle and a wire loop. The loop is threaded through the button hole, hooked over the button, and the button pulled back through the hole. Button hooks usually need a lot of practice to use effectively, especially if you have the use of one hand only. (Disability SA, 2008).
Bra angel
This is a plastic bracket that slips around your neck, and allows you to keep one side of a front-fastening bra in place while you use the fasteners on the other side with one hand.
Dressing sticks
A dressing stick usually consists of a long wooden or plastic handle, with a hook on one end and sometimes a thimble or smaller hook on the other. You can use a dressing stick to bring clothes around your shoulders, push clothes off your shoulders, pull up zips (using the small hook end), tighten shoelaces and pull up trousers or straps. You can also sew loops onto clothing and then use the dressing stick to help with positioning the garment. (Disability SA, 2008).
Reachers or pick-up sticks
Reachers are available in various lengths and grip styles, and have a pincer grip at one end. They may be used to pick clothes up from the floor, pull up underwear or trousers and push down socks, underwear or trousers.
Pants clip
This consists of two plastic clips joined with a piece of elastic. One clip is attached to your top, the other to your trousers before you lower trousers to go to the toilet. This helps keep trousers within reach when you stand after using the toilet. For more information on clothing and toileting, read our advice on managing clothing when using the toilet.
Zip aids
A zip aid is usually a piece of cord or fine chain with a hook on one end and a tab at the other to assist with doing up zips. Large rings or tape can also be attached to a zip tab to help make gripping easier. (Disability SA, 2008).
Sock, stocking and compression stocking aids
Sock and stocking aids may help if you have difficulty bending forwards to put on socks, stockings, tights and compression stockings. There are flexible and rigid styles, an occupational therapist would be able to advise you on which one is most suitable for you. There are also stocking aids specifically designed for putting on compression stockings, as these can be quite difficult to put on and take off. (Disability SA, 2008).
Shoelaces and lacing aids
Lace locks can be used to tighten and loosen laces without the need to tie them. Elastic laces can be used to convert lace up shoes into slip-ons. Coiled laces can replace standard laces, and can be tightened using only one hand.
Shoe horns and boot removers
A long handled shoe horn may assist you if you cannot bend to put on your shoes. It will help keep the back of the shoe open while you slide your foot in. A boot lever can help you remove high-legged boots. There is usually a V shaped notch, and the heel of the boot is placed into the remover while you ease your foot out of the boot.
Advice last checked: 17 October 2014 Next check due: 17 October 2017
All advice is either supported by references (cited in the text) or is based upon peer reviewed professional opinion. Our advice is impartial and not influenced by sponsors or product suppliers listed on the site.
Conflict of interest statement