Bath lifts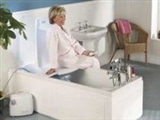 There are several types of bath lifts, please click on any of the links for more information on that type of bath lift:
Bath lifts can be operated either by the user for independent bathing; or by a carer to make the task of assisting someone easier and safer, thus reducing the risk of back injury. However users must be able to lift their legs over the bath rim if they wish to bathe independently.
Before purchasing a bath lift, consider the following factors:
Type of bath:
Handles. Some baths have integral chrome handles which can interfere with the flaps of the bath lift seat. Some bath lift manufacturers provide side flap protectors to prevent this. Side flap protectors.
Deep baths. Some bath lifts may not rise high enough to be used with a deep bath, there are bath lifts designed for deeper baths.
Corner baths. There are a few bath lifts available that can be used with corner baths.
Bath material. Is the material strong enough to support a bath lift? You may need to check with the bath manufacturer? Please read our advice on the compatibility of baths with bathing equipment
Length of the bath: A bath lift uses a considerable proportion of the length of the bath, reducing the room available for you to stretch out your legs. This length will vary depending on your bath and the type and model of bath lift.
Bath lift weight: This will vary according to the size, the lifting mechanism and the power source. If other individuals are going to use your bath without the bath lift then you will need to consider who is going to remove the bath lift. Bath lifts can be quite heavy, lifting the bath lift may place the individual at risk, e.g back strain. Some models can be taken out in pieces which reduces the weight the individual will be lifting at any one time. Some of the inflatable models are relatively light but need to remain in situ initially to dry off.
Suction feet: Many bath lifts have large suction feet which stick to the bottom of the bath to provide stability. These need to be released before the lift is removed, which generally means leaning and reaching over into the bath. Some newer models have pull-up tabs attached to the suction feet to make this easier.
Storage: Where will the bath lift be stored if removed from the bath?
Bath lift backrest: Manual, band and inflatable bath lifts have no, or only limited, back support. Consequently they are not suitable if you cannot maintain your sitting balance on the seat or have limited trunk control.
Fixed back and reclining powered bath lifts have backrests. A reclining back can help give a more relaxing and comfortable bath; may be more suitable for individuals with reduced hip flexion or back conditions such as kyphosis and scoliosis; and assists taller people to maximize the available length of the bath. The degree of recline varies to a max of 40 degrees. The overall height of the backrests varies and can, in a few cases, include a moulded head rest and other cushion inserts for additional support/stability and comfort.
Seat type: Some bath lift seats are made of rigid plastic which can feel hard, especially for someone with low body weight. Bath lifts with padded seats are also available and are often preferred by users.2 A cushion or insert can be helpful. Some manufacturers supply detachable machine washable covers to reduce infection concerns, the cover may enhance your comfort when sat on the lift.
Lowest position: Only a few bath lifts lower right down to the bottom of the bath, although inflatable models may get fairly close. The seat level of some powered models is as much as 8cm from the bottom in the lowest position.
Highest position: Check that the maximum lifting height is sufficient to lift to the rim of the bath. Some do not lift high enough for use in deep baths, although some do have adapters that can be added when used in deep baths - check with the supplier.
If the bath lift can raise you to a height above the level of the bath rims this may make it easier for you to lift your legs over the side of the bath.3
Capacity: Is the user's weight within the bath lifts capacity?
Controls: Can the user, or a carer, operate the controls? Some are considerably heavier than others as some contain the batteries. Will the user, or carer, remember to charge the bath lift, and how to do it?
Annual or biannual servicing: Needs to be considered for a powered lift if used by multiple users and is part of the Lolar regulations if you are an employer. If the equipment is provided via social services this will be carried out by the community equipment service.
---
Try before you buy:
When considering bathing equipment an individual assessment with an occupational therapist may be appropriate, as your safety in your bathroom is very important. There may also be individual factors which determine which bathing equipment best suits your needs. The information on this site is not a substitute for individual assessment.
We recommend you try out a bath lift before purchase. Equipment Demonstration Centre in the UK have a permanent exhibition of products and equipment designed to enable independent living. The centres provide individuals with opportunities to view, and try, products and equipment and obtain information and advice from professional staff about equipment that may assist them.
Further information:
For further information please read our factsheet 'Choosing a bath and bath accessories'.
Advice last checked: 04 November 2014 Next check due: 04 November 2017
All advice is either supported by references (cited in the text) or is based upon peer reviewed professional opinion. Our advice is impartial and not influenced by sponsors or product suppliers listed on the site.
Conflict of interest statement
References
Disabled Living Foundation 2014 Choosing equipment for bathing
View reference Last visited: 30/09/2015

Evidence type: 2

Pain, H., McLellan, L. and Gore, S. 2003 Choosing Assistive Devices: A Guide for Users and Professionals
Jessica Kingsley Publishers : London and Philadelphia

Evidence type: 1; 2