Equipment to help getting up from and down to the toilet
Difficulty getting on and off the toilet is often a problem associated with arthritis and stiffness in the joints, or muscle weakness. It can be helped by:
Fitting grab rails or rail systems
Rails can be used to push up from, or to pull yourself up with. They are generally fixed to the wall alongside the toilet, but if this is not structurally possible, then a rail that extends from the wall behind the toilet could be used.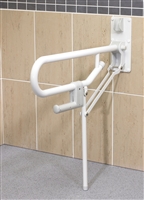 As a general rule, if a rail is required to push up from, it should be positioned mid-way between the back wall and the front of the toilet bowl at approximately waist level, and extend forwards away from the toilet user. If you have weak or stiff wrists, you may prefer to rest the forearm along the rail and push up from this position. If this is the case, a slight deviation of the rail from the horizontal may support the forearm better.
If a rail is used to pull up with, it is generally fitted in line with the front of the toilet pan, at approximately waist height and at an angle running forwards and upwards away from you. Sometimes, a horizontal rail followed by a vertical rail (or a right-angled rail) might be preferred to provide two handhold levels.
A floor-to-ceiling grab pole may be useful for some people as they allow you to pivot around them whilst still being able to hold on, but they do require significant arm and grip strength to use.
It is important to check the distance between the toilet pan and the wall, or any place where the grab rail is sited. If you have to lean sideways or forwards to reach any rail, it will not provide sufficient support and may put you at risk of falling. A drop-down rail fitted to the back wall or a toilet surround frame may be more appropriate.
Drop-down toilet rails provide support on a second side, if no wall is present for fixed rails. They also allow the rail to be lifted out of the way when not needed, or if a carer needs to move closer to the individual on the toilet.
Fitting a toilet frame
Toilet surround frames are metal frames that are often height adjustable to suit your requirements. They surround the toilet and provide a hand hold
either side to push up from. They can be floor-fixed to provide more stability.
---
Providing a higher sitting position
Ideally, when seated, your hips, knees and ankles should be at 90 degrees or a right angle, with feet flat on the floor. Standard height toilets are 15-16 inches (38-40cms) high. This may not be high enough for a taller person.
You can raise the sitting position by:
permanently raising the height of the toilet by inserting a plinth between the floor and the toilet pedestal;
using a raised toilet seat;
using a raised toilet seat frame;
installing a high seat toilet;
installing a wall-mounted toilet at a suitable height; or
installing an adjustable height toilet.
Toilet plinths
These are usually made of fibreglass or clay and can be shaped and coloured to match your existing toilet pedestal.
Raised toilet seats
A raised toilet seat usually replaces the existing toilet seat and provides a raise of 5cm, 10cm or 15cm depending on the model. The seat either clamps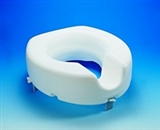 onto the toilet bowl or is fitted using the standard toilet seat fixings. Less flexion is required in the hips and knees if a higher seat is used, making it easier to sit down and stand up. A seat that is too high, however, can leave you feeling unsupported. Ideally, feet should be flat on the floor to give stability.
Raised toilet seats are available with arm rests for extra support when seated and when standing from the toilet.
Raised toilet seat frame
These are toilet seats attached to a metal frame that surrounds the toilet. Their height can usually be adjusted to set the seat at the height required for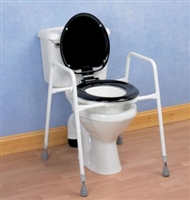 your use. The frames can either be freestanding or fixed to the floor. They have the added advantage that they provide a handhold either side, but they are more obtrusive.
High seat toilets
These provide a higher sitting position and may assist you if you have difficulty bending at the hips. However, they also present problems for people who use a wheelchair since the difference in transfer height may be too great.
Adjustable height toilets
These are replacement toilets that are usually mounted on wall fixings that allow the toilet to be adjusted up and down, powered via a low voltage electrical supply or water pressure.
Installing a toilet seat lift
If you are unable to stand up even with the use of rails or a raised toilet seat, consider installing a powered self-lift seat. This helps you to stand by rising and tilting forwards, much like a riser armchair. Some have integral hand rails.