Protecting your clothing – bibs and aprons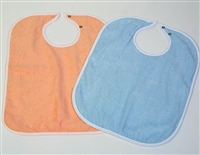 If you find that eating and drinking causes spillage onto your clothes, you may want to consider wearing an apron or bib. There is a large range of designs, some more discreet than others. They are available in disposable plastic or washable/wipeable materials. Consider what is the best fastening system for you, whether the bib/apron pulls over the head, is tied, has a Velcro hook and loop system, a popper, or some other way of fixing.
If you find the idea of wearing a bib difficult, you might like to consider wearing a standard cooking apron, although they are not generally waterproof and will need washing.
A tee-shirt bib tucks into the neck of a shirt/blouse, so looks like a tee shirt worn underneath. This would be most useful to a person who loses fluids from their mouth. It does not protect the clothes or lap from food spillages.
Bandana bibs are designed to look more like a scarf or bandana around the neck. The smaller ones will catch saliva or liquids lost from the mouth, but will be less useful for protecting clothes from food spillage. There are larger designs that would be more protective.
The most common bibs are flat panels which fit over the head or fix around the neck. They generally cover the whole of the front. Some are long enough to protect the lap when seated. They are wipe clean with a polyester surface or machine washable. Some bibs have an upturned bottom edge designed to catch crumbs and spills.
Disposable bibs and aprons are available to bulk buy. Made from thin plastic, they slip over the neck, or tie at the neck and behind the back. Some have small self-adhesive patches. If laundry is difficult, disposable bibs/aprons can be helpful.