Variable posture beds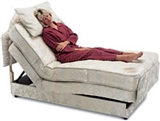 Variable posture beds have sections in the base under the mattress. The sections can hinge to form a back raise and sometimes a leg raise as well. This feature is known as profiling.
Some companies have a double bed option. Usually this comprises two single beds placed close together (one or both with the profiling option). If needed, ensure the beds will separate easily, e.g. for carers to assist from both sides, and/or there is sufficient clearance underneath, e.g. for the legs of a portable hoist.
Consider the following:
three-section variable posture beds slightly raise the user's knees, forming a knee break that may prevent him/her from sliding down the bed;
a more comfortable and stable position can be achieved in a bed with four sections, as the user's bottom remains horizontal while the knees are raised to form a break;
five-section beds provide more profiling within the head/backrest section;
two-section beds are sit-up only; the angle of the head section is adjusted to help sitting up/lying down or to form a backrest. There is no knee break option and, like most mattress inclinators and pillow lifters, it is likely that the person will slip down the bed.
Variable posture beds can be adjusted manually or electrically while the person is on the bed:
those with a powered mechanism are usually controlled with a handset. Although powered by a motor, most are quiet or almost silent;
manually operated beds are controlled by a foot-operated gas-assisted mechanism, a lever or winding mechanism or a ratchet system. The carer can find all of these quite hard work and the user cannot control the adjustment.
The mattresses for these beds are either foam, latex or sprung. They should have divisions to correspond with the sections of the bed's mattress platform. A sprung mattress with continuous wire edging should not be used, as it will make it difficult to profile the bed. It is advisable to check with the bed manufacturer if the mattress needs to be replaced at any stage. Alternatively, the National Bed Federation can provide information on companies that sell sectioned mattresses.
Both domestic and hospital versions of variable posture beds are available. The domestic ones tend to be smaller with a wooden or padded headboard and generally look more homely. The hospital versions are larger, usually with a metal frame, more resilient and often have a choice of nursing functions.
It is important to check that a hospital bed provides the functions needed. Many have a tilting mechanism and most have the option of safety sides. It is necessary to specify other options; e.g. quick release of the backrest for resuscitation, removable head and footboards for assisted transfers, or the facility to choose which bed movements the occupant is able to control.